Started in 2004, "Diversity Month" is celebrated by the U.S. each April to honor and celebrate the many cultures, traditions, and differences that make up our country's population. It is also a perfect time for you and your organization to reflect on how you can deepen your efforts around workplace diversity, equity, and inclusion (DEI). Below are several suggestions to get you started or help take you to the next level.
1) Connect With Different People in Your Workplace
One way to expand understanding and deepen your appreciation for the diversity in your workforce is to make intentional efforts to reach out and connect to those outside your regular "interaction bubble." Most of us tend to have a small group of people with whom we regularly interact at work. Perhaps our direct team members or those who sit in the cubicles closest to us are the only people with whom we regularly and consistently communicate. Limiting our connections to the same people over and over again not only confines us to the same perspectives and the same ways of doing things, but it can also be pretty boring! Try walking the hallways outside your department if you are in-person at the office or reaching out to someone on a different team to grab have a virtual coffee chat. You might be surprised how much you gain from making new connections and building new relationships.
To dig down a little further into this concept, it is helpful to remind ourselves that, as humans, we have an innate tendency to seek out those who are most similar to ourselves – racially, socio-economically, politically, etc. – and the result is that the vast majority of us limit our social interactions to those who look and think like us. In fact, past research shows that up to three quarters of white people do not have any non-white friends and that the limit on cross-racial social relationships is not limited to white people. Black individuals have been shown to have ten times as many Black friends as white friends. Yet, that disparity is still far higher for white Americans, who "have an astonishing 91 times as many white friends as Black friends."
For many Americans, the first time they have any meaningful interaction with individuals who are different than themselves is when they join the workforce and then are expected to connect, communicate effectively, manage conflict, and build successful relationships with one another without having any real experience at it. Organizations and leaders can help bridge this gap by demonstrating intentional efforts to help employees learn constructive dialogue skills, offering opportunities for cross-cultural education, and encouraging employees to share and learn from one another in formal and informal ways.
2) Promote Use of Inclusive Language
Words matter. Yet, today's workplaces are still full of exclusionary language and communication practices that reinforce harmful stereotypes. You can help ensure your organization and employees are using inclusive language. There are many resources now available to help review your current practices to ensure that you are not promoting inaccurate assumptions regarding gender roles, racial bias, ableist phrases, and so much more. One of our favorite tools is the Conscious Style Guide, a website devoted to helping people think critically about "using language—including words, portrayals, framing, and representation—to empower instead of limit." The site offers multiple style guides covering terminology for various communities, a free newsletter to keep you up to date on shifting language, and links to key articles debating word usage for almost every industry.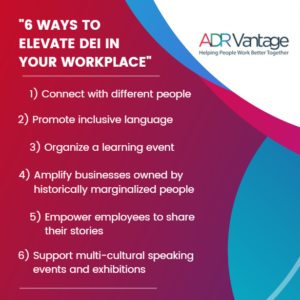 3) Organize a Learning Event
Diversity Month is the perfect time to plan a workshop, panel discussion, or other learning event focused on diversity, equity, and inclusion topics. You can ask for speaker recommendations from your employees, partners, and clients. You can also visit sites such as the Black Speaker Collection, a resource of over 2,000 Black speakers for organizations who are looking to amplify and diversify their panels, their organizations, and their teams.
You can also attend a DEI Course on LinkedIn Learning or reach out to us here at ADR Vantage where we provide a wide variety of DEIA (diversity, equity, inclusion, and accessibility) training, strategic planning, program development, facilitation, coaching, and other consulting services. Check out our webpage for more details.
4) Amplify Businesses Owned by Historically Marginalized People
The U.S. Small Business Administration maintains multiple directories to find minority-owned businesses across all sectors including woman owned, LGBT owned, Native-American owned, Veteran owned, and more. There are also several Black-owned business directories that can be searched for your area. Take time to review your current list of vendors and partners. Intentionally contracting with businesses owned by persons from historically excluded identity groups is another way to deepen your commitment and action to workplace equity and inclusion.
5) Empower Your Employees to Share Their Own Stories
Engaging and including your employees and colleagues in your DEI efforts is always a good idea and it also establishes more genuine connections with individuals from historically underrepresented and marginalized groups. Try hosting regular facilitated discussions focused on DEI-related topics, bringing in trained DEI facilitators to help employees better discuss their own identities and differences, or highlighting employee stories on your website, internal platforms, or publications. Aside from "Diversity Month," there are several holidays and commemorations in April 2022 that celebrate cultural backgrounds, experiences, and traditions including Ramadan, Eid al Fitr, Easter, Passover, Arab-American Heritage Month, and Autism Awareness Month, if you are looking for opportunities to weave in those themes.
6) Support Multi-Cultural Panels and Speaker Events
Making a conscious commitment to seek out, include, and promote the voices of individuals from different cultures, ethnicities, religious and spiritual backgrounds, gender and sexual identities, and (dis)abilities in panel discussions, conferences, and other similar events is an important way to make your DEI efforts more impactful. If you are organizing these events, pledge to make this a goal for every event. If you are being asked to serve as a speaker/panelist, ask who else will be speaking at the event and be willing to make a referral to another speaker if you feel one is needed.
There are also numerous museum events, art exhibits, and other gatherings that highlight speakers from a variety of cultural backgrounds and identities. You can learn more about the lived experiences of people who are different from you through art, theatre, music, and more – and many of them can now be experienced virtually. Check out 75 of the best virtual museum tours around the world here.
We'd love to hear how you and your organization are celebrating "Diversity Month" this April and we encourage you to continue throughout the year!