The FBI recently released its annual hate crimes report, showing that "bias-motivated crimes based on race, religion, disability and gender remain at troublingly high levels."  The Human Rights Campaign signaled increased attention to the report of hate crime numbers based on sexual orientation that represent almost 17% of all hate crimes, behind race and religious motivated crimes.
These numbers are disturbing but not new. In fact, the rate of overall hate crimes across the country has slowly risen every year since 2014.  Racially-motivated crime remains the most common type of reported hate crime, "with nearly half of race-based hate crimes targeting Black people" and hate crimes against the Latinx community have also risen for the fourth year in a row.  Hate crimes involving religion-based bias increased as well, particularly those targeting Jewish people and Jewish institutions and Muslims.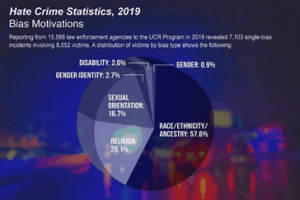 What's even more alarming is that hate crime reporting is not mandatory and is not consistent across all law enforcement jurisdictions, leading to a likelihood that these statistics don't represent a full picture of the total number of acts of violence and bias that occur every year in the U.S.
These alarming statistics are impacting and unsettling the workplace, in subtle and not so subtle ways. The impacts are also being felt just when workplaces are struggling to support their employees while they confront the turmoil of the pandemic and multiple incidents of recurring racial and social injustice.  While more and more workplaces are recognizing and embracing differences that build connection and inspire inclusion, statistics like the ones in the FBI report are still disheartening.  Here are a few tips for helping you and your workplace stay the course as you navigate these challenging times.
TIP #1:  Prioritize self-care.  Yes, we've all seen the articles about the importance of de-stressing and staying resilient in the face challenging times.  Yet, so many of us silently ignore those suggestions and go along with our busy schedules telling ourselves that we're tough, and that self-care is for someone else or that taking a break means we aren't doing enough.  If that sounds like you or someone you work with, consider the wise words from civil rights activist, Audre Lorde, "Caring for myself is not self-indulgence, it is self-preservation."
TRY:  Adopting at least one new self-care regimen for yourself.
TRY: Consulting with your organization's internal human resources and/or wellness program representative to find out what support and self-care resources may be available to you and your staff.
TRY:  Bringing a 5-minute collective mindfulness practice to your team meetings.
TIP #2:  Continue to check in with your team.  Many Black and Brown employees, in particular, are struggling with the emotional impacts of the continued violence directed at those communities, even as we head into month ten of the COVID pandemic and a new surge in cases.  Everyone handles those burdens differently.  Recognize that you may not see what is going on or hear about it directly from every employee but the continued stress may, and likely is, having an effect.
TRY:  Checking-in with employees and colleagues on a regular basis but, don't expect or push dialogue.
TRY: Giving people the benefit of the doubt.  While employees need to be accountable for their work, consider whether and how recent challenges may be affecting how they show up in the workplace and whether you can accommodate adjustments to schedules and deliverables.
TIP #3:  Keep up the momentum.  While many organizations already had diversity, equity and inclusion (DEI) efforts in place before this year, 2020 has certainly brought increased awareness and attention to these topics.  Even though the ongoing pandemic has caused many organizations to shift priorities, it is more important than ever to clarify and stay focused on your DEI goals.  In fact, your employees, clients and customers are expecting it.
TRY: Providing options for your teams to engage with each other around topics of racial and social justice through facilitated sessions.  These sessions provide space where people can share their feelings about what is happening outside the workplace and break through to deeper appreciations of each other's experiences in and out of the workplace.
TRY: Inviting your employees to offer their insights and specific suggestions to improve your organization's internal and external DEI efforts.
TRY:  Hiring a professional DEI consultant who can provide expert advice and recommendations to take your efforts to the next level.
Tara B Taylor, MPA
Managing Director