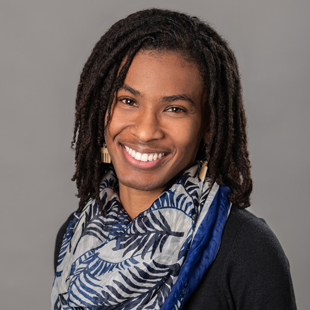 Trevonne Homer
DEI Program Manager
Trevonne (she/they) manages the firm's Diversity, Equity, & Inclusion (DEI) services and works closely with our clients to achieve their DEI objectives. Trevonne takes a holistic approach to her work, aiming to share practical tools that help individuals and groups build a deeper self-awareness and feel better equipped to navigate complex workplace situations. Her passion and purpose is to support individuals and organizations to overcome challenges and to attain their goals.
Trevonne joined ADR Vantage at the beginning of 2023. She plays a major part in DEI project design and development, conducts DEI training, creates curriculum, facilitates dialogue sessions, maintains key partner relationships, and supports ADR Vantage's strategic direction relating to DEI.
Trevonne's experience in the DEI space began at the American University School of Communication (AUSOC), where she served as the school's first Inclusion Coordinator. During her time at American University, she led the AUSOC Diversity Committee, served as a facilitator for a campus-wide initiative to guide constructive conversation around issues of race/ethnicity, and taught a course for first-year students that equips them to begin engaging in dialogue around race, social identity, and structures of power/culture. She was a recipient of the 2019 Staff Performance Award for Inclusive Excellence for her outstanding contributions to inclusion, equity, and diversity, and for advancing the goals of the American University Inclusive Excellence Plan.
Prior to joining ADR Vantage, Trevonne co-founded QualiT Management Solutions, LLC dba AskaHomer Wellness, to support entrepreneurs and individuals with their goals. She also served at the Virgin Islands Department of Education as an interim Program Director where she provided oversight and coordination of the Immediate Aid to Restart School Operations Grant.
Trevonne holds a Master of Public Administration with a concentration in International Management from American University and a Bachelor of Arts in Sociology with a minor in Women's, Gender, and Sexuality Studies from Emory University. She has a certificate in Analytics and Management from American University, is a Licensed Qualified Administrator of the Intercultural Development Inventory ®, and a Certified Integrative Nutrition Health Coach through the Institute for Integrative Nutrition.
Outside of work, Trevonne enjoys giving back to her community. She has served as a curriculum facilitator for the DC Rape Crisis Center where she presented sexual assault risk curriculum to youth at DC schools and community-based organizations. Trevonne envisions a world where everyone regardless of their identity or background feels equipped and empowered to achieve their goals. Improving health, wellness, and happiness for all is a vital part of her vision.
Trevonne grew up in the U.S. Virgin Islands. She enjoys travelling, dancing, and can't live without the beach.